from the February 2007 magazine
It is always a shock when someone dies suddenly as one tends to take their presence for granted, and not think what their absence would mean.

All his acquaintances knew Albert Smith had heart trouble, but he seemed so well, and looking forward to the christening of one of his large family when he died suddenly in November 2006.

Albert was one of the most faithful participants in Gloria the minibus's activities. He never pushed himself forward, but seemed happy just to be one of the group. He loved going to Prideaux House in Hackney, and last year won his heat in the Pancake 'Shufflethon'.

He had a fine singing voice, and was invited to join the Prideaux Belles Choir, which he thoroughly enjoyed, in spite, or maybe because of, being the only man! Albert lied about his age to join the Merchant Navy at the start of WWII, and after the war joined the Army as a Regular, afterwards working as a bin man in Wandsworth and on the Big Dipper at Battersea Fun Fair. We shall miss him on our outings.
Alison Wright, who also provided the photo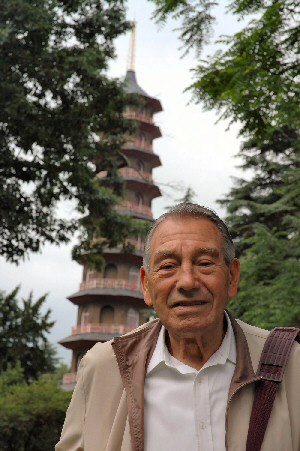 Taken on our visit to Kew Gardens last Spring, we had just been to the top of the pagoda.