Maeve Sang
24.09.36-01.05.19
Monday 20 May 2019
St Mary & St Nicholas Church Leatherhead
& Randall's Crematorium
Minister: Reverend Graham Osborne
In the hour of death, after this life's whim,
When the heart beats low, and the eyes grow dim,
And the pain has exhausted every limb
The lover of the Lord shall trust in Him.
(RD Blackmore)
Music in: Ode to Joy by Ludwig van Beethoven
Welcome and Opening Prayer: Rev. Graham Osborne, Rector of St Mary & St Nicholas, Leatherhead
Hymn: Who would true valour see
Collect: Rev. Graham Osborne
Readings
Psalm 121: Rosie Gaisford (daughter)
1 Corinthians 15 vs 50-58 Jack Robinson (grandson)
Tribute: Simon McGuire (nephew)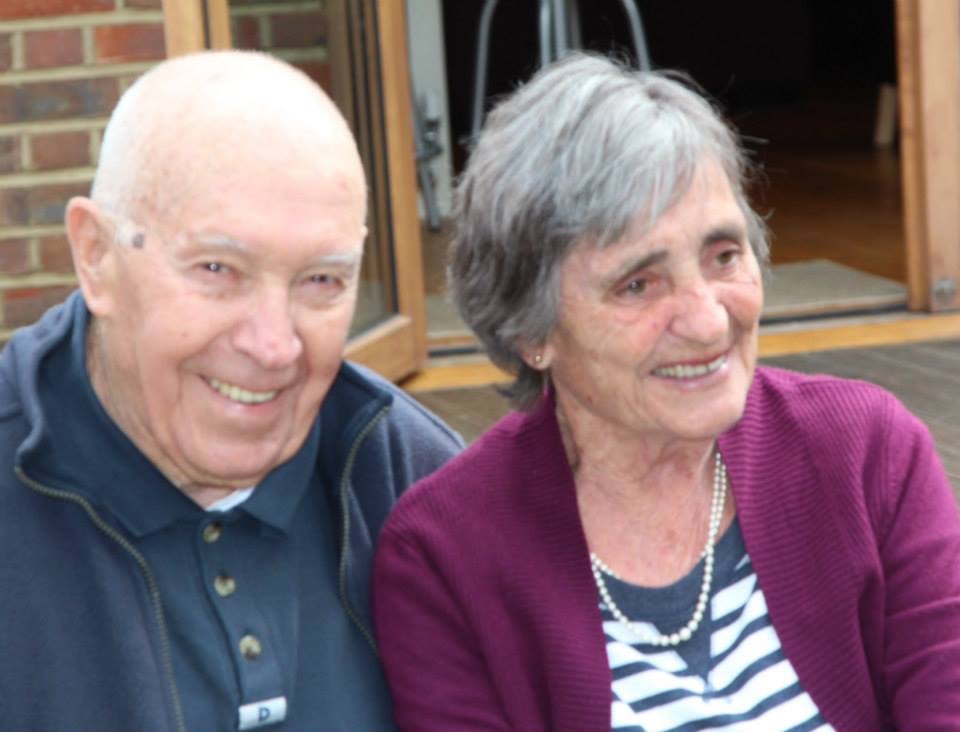 Angela Maeve Sang: Tribute at her funeral on 20th May, 2019, based on her own notes: Simon McGuire (nephew)
Maeve – Wife, Mother, Mother in Law, Granny, Sister, Aunt, Godmother and Friend.
Maeve was born on 24th September 1936 in Myitkyina, Burma, to Robin and Barbara McGuire.
Robin was Deputy Commissioner in the Indian Civil Service, that elite group of men who administered what was then British India in the days of the Raj. Robin and Barbara were long associated with Burma: Robin eventually became Chief Secretary at Independence in 1948 and Barbara's father Sir Benjamin Heald had been Chief Justice and Vice Chancellor of Rangoon University. Robin and Barbara were married in Rangoon Cathedral in 1930, and it was there that Angela Maeve McGuire, as she then was, was baptised. Years later, Robin and Barbara would recall the scent of the frangipani in the baptismal font – probably not appropriate, but delicious nevertheless!
At the outbreak of war in 1939, Barbara took Maeve, then aged 3, and her elder brother Ben, then aged 5, to stay with Barbara's uncle Ernest and his wife Alice at their poultry farm in Medicine Hat in Canada. Unfortunately, Ernest and Alice found them too much of a handful, so Barbara advertised locally for foster parents. Eventually Gert and Jim Davidson, a local childless couple with no previous connection to the family, volunteered. Barbara left Maeve and Ben in their care for the duration of the war and returned to India to be with Robin. Maeve remembered this time with affection. She said Gert and Jim were marvellous foster parents, strict but fair. Ben remembers the early morning fishing trips to catch and cook breakfast, something which Maeve intensely disliked, and which led to a childhood hatred of fish! This was to change in later life.
At the end of the war in 1945, Barbara returned to collect her children, now aged 9 and 11, and take them back to England. Maeve quickly adjusted to life in England. She exchanged her Canadian accent for an English one. She won a bursary to Sherborne Girls School, where she excelled, becoming Head of House, Captain of Cricket and a School Prefect. She went on to study at Trinity College Dublin, where she worked occasionally and enjoyed herself a lot.
In her final year she met a young medical student called Pete. Romance blossomed. They were married on 27th December 1958 in her parents' church in Lindfield, Sussex, before returning to Dublin where Pete worked at Sir Patrick Dunn's hospital. Maeve also worked, as private secretary for an orthopaedic surgeon, in order to support Pete. They lived in a minute one bedroom flat, although Maeve remembered spending weekends smuggled into Pete's room in the hospital!
In 1959 they made the big move to Rhodesia, now Zimbabwe – God's Own Country, as Maeve called it. They went by ocean liner, the Windsor Castle, to South Africa. They took a train to Bulawayo, travelling 3rd class, for that was all the Government would pay for. In Bulawayo, they were met by Pete's father, who set out for Salisbury, now Harare, but only got as far as Gwelo, where the big end "blew". Eventually it was fixed and they made it to Salisbury, where Pete had a job at the hospital. Pete's first stint started on Friday morning and ended on Monday night – quite an introduction!
As they were both penniless, Maeve also worked, this time in the building industry, where she again earned more than Pete. Six months later Pete was transferred to Mrewa, a bush station north east of Salisbury where there was no electricity: just a wood stove for cooking, and a septic tank for afterwards. Quite a shock! Nevertheless, life was happy. Rosie was born in 1962 and Julie in 1964.
Maeve joined the Women's Field Reserve in the British South Africa Police, from which she was eventually to receive a 25 year long service medal.
Pete was next transferred to Umvuma, south west of Salisbury, where Maeve took up tennis and bowls. She enjoyed bowls, but said she enjoyed the après bowls even more! Richie was born in 1966 and Melanie in 1970. Maeve worked in the local school as secretary and general dogsbody, and she and Pete made many lifelong friends. It was a particularly happy time.
In 1974 Pete was transferred to Umtali in the Eastern Highlands where he moved into preventative medicine. This precipitated another big move, this time back to the UK for a year, where Pete did a Diploma in Tropical Medicine. The family stayed with Barbara and Robin in Haywards Heath. During this time, the children got to know uncle Ben and aunt Gina better, and their cousins, including me.
Returning to Rhodesia, they found the country in the early stages of the bush war. They travelled from Salisbury to Umtali in convoy, where they were mortared almost as soon as they arrived. Luckily no harm was done. They bought a house, 18 Chase Avenue – their first own home, which they loved.

At Independence in 1980, Pete was transferred to what was by now Harare. He and Maeve bought 32 Southam Road, a house which many of us remember with great affection – it was, as she said, the best home ever. It had a funny thatched gazebo, which was beautiful but strange: you had to stoop before entering, lest you banged your head! It also had a lovely swimming pool, the scene of many happy Sunday lunch parties.
Over the next few years the children grew up and left home. Grandchildren were born: Brian and Grant, Kat, Jack and Amy, and Jack and Danni. Southam Road became too big, and in 2000 the decision was made to downsize, first to a town house in Mandara, then to a garden flat in Dandaro, which Richie purchased.
In 2009, encouraged by their children, she and Pete decided to relocate to England, where they settled in their delightful flat in Woodvill Road. Maeve joined Curves ladies gym, which she relished and where she made many more friends. She also became a social member of the Fortyfoot bowls club [Leatherhead Bowling Club]. On 27th December last year, just five months ago, she and Pete celebrated their Diamond Wedding anniversary, surrounded by family, and a congratulatory card from the Queen.
And here we are now, today, to say thank you and goodbye. I will remember Maeve as a kind and loving aunt and godmother, who always had time for me and my wife Nicky. She was a fount of many happy memories about Robin and Barbara, my grandparents and her parents, whom all of us in the family loved. I will also remember her as an especially good cook: particularly the freshly baked cakes for tea, her brandy filled chicken liver pate and her
roasted butternut squash.
Throughout her illness, I never heard her complain: when I visited, she was always much more interested in me than her own predicament.
Thank you, Maeve, and for the many happy memories you leave. We will miss you.
Goodbye – which means to say, in the sure and certain Christian hope of the resurrection, may you be with God, until we meet again.
Hymn: Praise my soul, the King of Heaven
Prayers (All is well - Canon Henry Scott Holland)
Rev. Graham Osborne
Commendation
Music Out: Time to Say Goodbye - Andrea Bocelli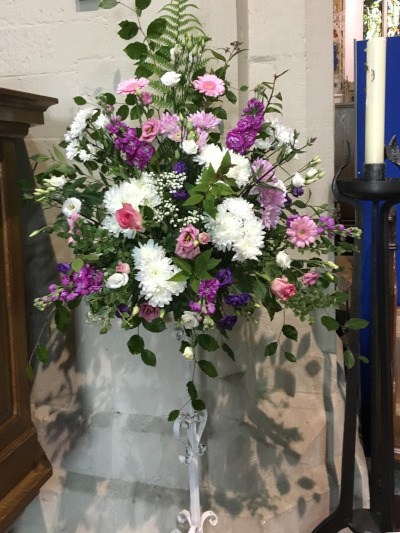 Church flowers
Drinks and snacks were provided in Ashtead, the family following soon after the Crematorium service.