David Ellis died in 1995. He served the parish as a Reader and was for a time editor of the Parish magazine and Secretary of the PCC. He came to the area as Deputy Director of the Queen Elizabeth's Foundation, from Cheltenham College where he taught Classics. After his retirement he was Chairman of the Friends of Juniper Hall (Field Study Centre).

Mabyn Caroline Ellis died on December 14 2008 aged 80. Her Funeral and Thanksgiving Service took place at Leatherhead Parish Church on 30th December 2008. The Hymns and Readings were:

As with gladness men of old
1 Corinthians 15: 35-end: read by Canon John Nurser, a lifelong friend of David and Mabyn's and godfather of their son Richard, and who also led the Prayers of Thanksgiving.
The day thou gavest, Lord, is ended
The Wren by John Clare: read by Chrissie Gittins 'Mabyn's adopted god-daughter'
He who would valiant be
For all the Saints who from their labours rest

Organist: Peter Holt
Choir
Verger: Sheila Ford

Donations were divided between Christian Aid and Amnesty International

Address
Canon David Eaton, Incumbent

The last few weeks of Mabyn's life were spent in Springfield Nursing Home at Stoke D'Abernon. Appropriately enough because it is at St Mary's, Stoke D'Abernon that her ashes will be interred, with those of David - reminding us of their connection with that church and David's time at Queen Elizabeth's Foundation.

To the Nursing Home Mabyn had taken a few of her precious things. Over her head hung the shield of Cornwall - a triangle of golden coins on a black background. It showed how much she valued her Cornish connections. Mabyn is a Cornish name. Her father loved all things to do with that county. The family moved there when Mabyn was 7 from Eton College, where Mabyn had been born and where her father had taught Classics. She was one of five children. She is survived by her sister Anne. Richard (David and Mabyn's son) now lives with his wife only a few miles from where Mabyn and the family originally settled (I am grateful to Richard for much background information in giving this Address).

When war came Mabyn was sent away to school in Devon, because the family home was near Plymouth, the Dockyard and possible enemy bombing. It was deep in the Devon countryside that Mabyn's love of Nature was able to blossom. She had a huge grasp of all things natural, both plants and animals. It was a love reflected in the garden that she and David cultivated, and I remember being shown with pride, when I came to Leatherhead. And in the trip of a lifetime that they both made to the Galapagos Islands in the early 90s. They had long loved the work of Charles Darwin, and to visit the place which gave birth to his world changing discoveries brought them great joy.

Partly because they also shared a joy in each other and just being together they were ideally matched: two people with a common mind and outlook.

Much of the Galapagos trip was necessarily spent on board ship, the Andando. Mabyn recalled with great pleasure watching the crew fish from the side of the ship. The guts of the fish were cut out and tossed back but caught by the Blue Footed Boobies, that Darwin had studied, before they reached the water.

The crew also caught the Boobies and served them up for lunch. The menu read chicken but Mabyn said "I knew it wasn't. You see, the bones were all wrong." Even on board ship you had to be up extremely early to put one over on Mabyn.

Although Mabyn's mother was one of the first women admitted to Cambridge and her father was a Classical scholar, Mabyn didn't go to university, but rather to Homerton Teacher Training College, on the outskirts of Cambridge. Her brother Hugh studied at Magdalen. David was one of Hugh's friends invited back to Cornwall in the Summer holidays, two years in succession. The family knew something was afoot because before his arrival Mabyn cycled into St Austell and bought three new dresses on the pretext that she "had nothing to wear". They were soon married; 55 years ago this August.

David's career in teaching took them to Blackheath in South London and then Cheltenham where David taught at Cheltenham College - Classics of course. It was in Cheltenham that Catherine, Richard and Elizabeth were born and in 1967 the family moved to Leatherhead, David becoming the Deputy Director of Queen Elizabeth's Foundation.

As well as a great working knowledge of horticulture and all things natural Mabyn was, in the best sense, an intellectual with a great love of history and books. The family testifies how she read constantly to them as children. She knew inside out the Bible, the Book of Common Prayer, the works of Shakespeare, Milton, Donne and many others. There was of course no TV in Mabyn's house and no easy chairs either.

She was the most devout and loyal attender of Prayer Book Communion here. An early modification on my part to the Collect for the Sovereign was not welcomed. "But Mabyn, it's only the words in brackets". No matter, they stayed in. It was the Prayer Book Tudor English and the Authorised Version of the Bible Mabyn really loved. Not in some kind of fundamentalist way but simply for the sheer joy of the language which, for her, said it all. In this sense Mabyn was not someone so much who personified a different age as someone who prized those things which are to be valued and cherished in every age. Nor was she conservatively blue-stocking or in any sense 'establishment'. Surprising perhaps on first meeting, even with three new dresses.

She loved people who had a practical skill and could apply their talent, whatever that might be. She was naturally and professionally a teacher and she was always ready to encourage others on their chosen path. But she was also a woman of passion for a just cause. Hence her enthusiasm for Christian Aid and Amnesty International. She took to her heart Amnesty's pledge to 'protect individuals wherever justice, fairness, freedom and truth are denied'. And with that burning desire she would write to all, and many, who she thought needed nudging in the right direction: from Mole Valley District Council to the Archbishops of Canterbury and York, not to mention Prime Ministers and other politicians, various. Many of us have been in receipt of a note, if not a letter, from Mabyn, nudging us in the right direction.

Although she was 80 when she died, Mabyn wasn't someone who had any truck with concessions to age. A fellow patient at Epsom General Hospital mentioned "it's not much fun being old" in Mabyn's hearing ... a mistake. "My grandson's 15, six foot tall, plays the flute and all the matches. I so enjoy hearing about it all."

And I have kept this note from Mabyn a few years ago in my Prayer Book: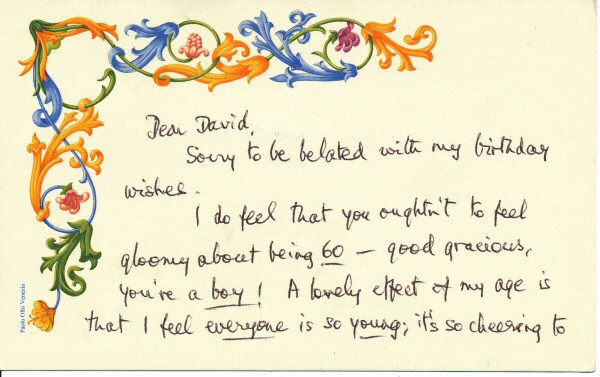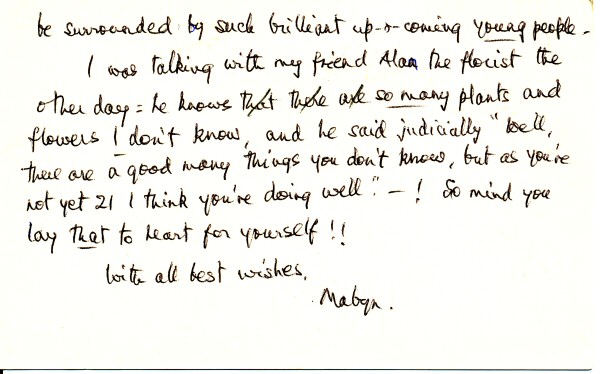 All these notes and encouragement were really evidence of Mabyn's love and concern about people. This combined with her sense of outrage at injustice and tragedy led her to being Director of the Leatherhead Branch of the Samaritans.
She also had great resilience. I am aware of at least two times when she came back; rallying her strength and determination. A few years ago she was admitted to hospital and seemed particularly frail. I though she might have died then. But no, although more bent and thin and needing a stick and Dial-a-Ride, she was back, in church and saying her prayers - "Good gracious, I should think so too!"
The other time was after David's death. Richard describes how gradually and with great determination Mabyn learned to live around the crater that his death left. That would be my picture too. She had lost the love of her life, her companion and friend. It knocked her sideways but it didn't overcome her. A nearly mortal blow, but she rallied, determined like a mountaineer to keep going. Partly perhaps because there was in Mabyn a real sense and awareness of the love and mercy of God. The gift of life she had received was food and worth living, not to be given up lightly. God was on her side and she travelled with Him. Heaven awaited, where she knew she would be received and welcomed, but not before its time. In this sense the painting I have in my mind about today is Turner's The Fighting Temeraire; the laying up of a ship at the end of her life; yet in that painting caught as still resolute, unbowed, head held high.
We are in church because Mabyn loved this place and at the centre of who she was lay her faith. She worshipped in this church for many years, David was a Reader here, she served here at Communion. Her faith wasn't a dry piety, but found expression in all those things and more I have mentioned. She had a relish for life and loved it. It was all God given and God inspired and it was God who held it all together. In this sense we need have no doubt that although the seed which was her life may have fallen into the ground, it will surely sprout forth with new shoots and new life yet to come.
We have every reason to be thankful for Mabyn and her life she has shared with us. It was a life rich and rare, a life of faith with its own uniqueness because of the unique person Mabyn was, an individual precious and cherished. And appropriately I hope, to finish with a little Shakespeare¹ for a woman who spoke her mind and whom we shall greatly miss:
The weight of this sad time we must obey;
Speak what we feel, not what we ought to say.
The oldest hath borne most: we that are young
Shall never see so much, nor live so long.
May she rest in peace and rise in glory.