Di was a quiet unassuming person, who went about her many tasks in a humble way. She worked as a book-keeper at Buchanan & Curwen and was commended for her work with the YMCA during the War. She was always ready and willing to help with coffee and teas, both at the fottball club and at church.
She had worked at All Saints' Church for 45 years in many capacities and enjoyed her worship there. One of her main concerns was for the flowers, which she tended with loving care, always ensuring that the church looked beautiful.
Di travelled quite extensively and had been planning a trip to Canada later this year. She will be sadly missed by a great many friends and neighbours, and our thoughts go out to Doug, his children and grandchildren and to Di's sister at this time. May she rest in the peace of the Lord.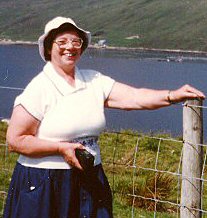 picture provided by Betty Coote