from the August 2020 Leatherhead Parish Bulletin, originally in the Surrey Mirror
MOLLIE MAKES IT Ė CONGRATULATIONS!

A Leatherhead lady who celebrated her 100th birthday on Friday, July 24, has walked over 100 miles since the Lockdown began in March.

Friends and admirers have raised over £5,000 in aid of Mencap, Mrs Mollie Canningís favourite charity, to celebrate her birthday.

Until recently, Mollie has walked daily round the Fetcham Mill Pond from her home in Elmer Cottages at the bottom of Hawks Hill in Leatherhead. Mollie said: ďItís just over a mile, and fairly flat. I go to watch the swans and moorhens raising their chicks.Ē




Mollie came to live in Leatherhead, Surrey in 1969, but she was no stranger to the town. She said: ďDuring the war I worked for the Air Ministry, and we were evacuated to Leatherhead. We worked in the Priory in Dorking Road, and I was in a little office upstairs in the cottage on the right of the gate. I had lodgings in Poplar Road. It was here I met my future husband John. He was lodging in Ashtead, but they didnít like having evacuees there, so he moved to Poplar Road too, right opposite me. My boss, who was an officer wounded in the First World War, took me aside and said ĎDonít get your hopes up, dear, engineers donít marry clerksí. I thought, Iím going to make sure that this one does.Ē

They married in 1942 and went on to have four children, and she now boasts eleven grandchildren, and twenty great-grandchildren.

Before moving back to Leatherhead, they lived in St Albans and Chester. The Cannings were always much involved within the Leatherhead parish, and John was churchwarden during the 1980s. After his death in 1993, Mollie continued her close connections with the church, and took on entertaining newcomers to the church. She was a Marriage Guidance counsellor for many years, and has always enjoyed being involved with people. She is also a very keen gardener.

Mollie was a founder member of the Leatherhead Community Association and is a keen supporter of the Thursday Lunchtime concerts held at the Methodist Church on Thursdays. In February she was elected Honorary President of the LCAS, the charity which organises these concerts. They had intended a live concert in her honour, featuring the harp, her favourite instrument, but this could not be. Friends at the church were able to arrange for a harpist to play in front of her house on her birthday.

Since her birthday Mollie has gone to stay with her daughter and family in Bedfordshire and we wish her every blessing.

This article also appeared in the Surrey Mirror

Frank Haslam adds that you may enjoy listening to Mollieís reminiscences in an Oral History recording on the Leatherhead & District Local History Society website - please click here


---
A Service of Thanksgiving
for the Life of
MOLLIE CANNING
25th July 1920 - 25th October 2020




Bedford Crematorium, Norse Road
Tuesday 17th November 2020

Service conducted by
The Reverend Sarah Burrow



The music links may include advertising' which you can skip.

For the service which took place at St Mary & St Nicholas, Leatherhead, on 26 November 2021,

please click here

.


Entrance Music: Steal Away Arranged by Michael Tippett


Welcome

We meet in the name of Jesus Christ who died and was raised to the glory of God the Father.
Grace and peace be with you. Welcome to all to Mollie's funeral. Someone who is most dear to all of us here whether we've known her a few weeks or your entire lives.
And as part of my welcome, I welcome so many who are joining us today via the recorder. Friends, some family members are unable to be here and those from Anjulita Court [Care Home] and I know the family wish to thank the carers at Anjulita.


So Martin, would you like to come and give us our Bible reading. Thank you



Bible Reading: 1 Corinthians 13


Read by Martin



Love is patient, love is kind.
It is not jealous or boastful; it is not arrogant or rude.


Love does not insist on its own way.
It is not irritable or resentful.
Love does not rejoice at wrong, but rejoices in the right.
Love bears all things; believes all things; hopes all things; endures all things.
Love never ends.
As for prophecies, they will pass away.
As for tongues, they will cease.
As for knowledge, it too will pass away.
For now we see in a glass darkly, but then face to face.


Now I know in part.
But then I shall know even as I am known.
So faith, hope, love abide; these three.
But the greatest of these is love.



Opening Prayers

Let us pray. God is our refuge and strength, a very present help in trouble. Heavenly Father, you have not made us for darkness and death, but for life with you forever. As we remember Mollie, look with compassion on us in our loss. Give to troubled hearts, the light of hope and strengthen in us the gift of faith in Jesus Christ our Lord. Amen.



The great St. Augustine said that, to make music to sing is to pray twice, and how fitting that we should be listening to the Hallelujah Chorus next.





Music: Hallelujah Chorus from Messiah by G. F. Handel


I'm going to invite Chris, Vanessa and David to come now to give tributes and to read the poem. Thank you.





Tributes
By Chris and Vanessa





Chris: Granny Mollie, or wee Granny, as we call them in Scotland, always used to struggle with my accent. So I will try and do my best by her and speak as clearly as I can.





When I think of Granny Mollie, the overwhelming feeling I have is the love that she shared with us all, but also a sense of easy joyfulness. And what I mean by that is this, she was able to find joy in almost anything. She approached everything in life with a sense of interest and laugh, even the most mundane of things. And that joy sort of spread out from her.





And I always felt lifted, your heart and your soul. And whenever you'd finished having a conversation with her, you always felt much better.





And it could be the simplest of things. When we had our first son, Becky was changing Owen's nappy in front of her. And she said, "Oh, wow, I'd have never thought to use a toy to distract Owen". And that meant the world to Becky, really gave her a confidence boost from someone that was so worldly-wise.





Or it could be after a long discussion about politics or technology. She would listen carefully. And she would always have the final words. And she would usually say something along the lines of "Well, dear, it's quite beyond me". And then she would turn to you, and she would give you a little wink and a little smile, a little wry smile. And you always left feeling that she listened to what you had to say. She had taken all in and then she decided to take the lighter side of things.





She could even find joy in the most disgusting of things, such as when my daughter decided that she really should hold our African land snail, which is a giant thing about this size. She gamely put it on a hand and she smiled so as not to let her grandchildren down, let it slime her hand, way across her hand.





And there was nothing more joyful in my eyes than seeing her lift her head back, put her hand on her stomach, lean back slightly and give a very hearty laugh, her shoulders shaking and her eyes closed with delight.





I felt very fortunate. Granny and I shared an interest in architecture and art. And we used to converse with with each other through letters and she would send me newspaper clippings. And her letters were always very down to earth, full of optimism and weighty observations. And the thing is, I always felt like she was so interested in all things in life, that we could probably all find something that we could connect with. And I think that all made us feel special in her eyes.





I like to recall my most treasured memories, which is travelling down the M6 through the night usually turning up at weird and wonderful hours at Farm Cottage and I knew that the next few days were going to be special and be joyous when we had big family gatherings.





I was a shy boy, I still am a little bit. And I did find it overwhelming but I loved I loved it. I loved watching Granny in the kitchen preparing our Coronation Chicken. I loved eating her Flapjack biscuits. I loved waiting for everyone to turn up and she would hug and kiss everyone as they turned up. I loved watching Grandpa John and Uncle Eric playing soft cricket in the garden with the kids. I loved hearing Auntie Enid's raucous laugh, the smell of lemon and the chink of ice and fizzy gin & tonic in the background, filling the air.





And I loved watching my older cousins getting dressed up in Granny's dressing-up clothes and strutting their stuff around the garden. They were family days, they were joyous days. And at the centre of all was Granny Mollie. So today my heart hurts. But that's because it's full of love that she shared with us all. She lived a long life and it was filled with love. And that is a life that has been lived to its fullest.





So I'd like to say that although she is gone, she will never be forgotten. She lives on in each and every one of us. We are her family and we will carry her love on into the future generations. So when this pandemic is over. Let's come together and let's celebrate Granny Mollie's life, her long, loving, caring life in one large, joyous family event.





Goodbye Granny. I love you.


Vanessa: Few are lucky enough to know their grannies for nearly 50 years and fewer still to know such a special one. Always kind, always wise and always fun. I was playing cards with my girls the other day, and it took me right back to Farm Cottage, and the riotous games of Pit and Happy Families around the dining room table. Granny at one end organising it all, and her beloved John at the other, eyes twinkling.





And charades and croquet and lively trips to the Panto, and the family parties in the sun-kissed garden, her garden gloriously in bloom. Eric and Enid would be there too. And Little Granny smiling wisely on. Family of all generations was so important to her. And she for us was the centre.





There were quieter times too with just me and Rachel, hide and seek in the woods, rambles up Box Hill, the memory game, the wonderful Doll's House, and of course the dressing-up box. I can still see Grandpa sporting a baby's bonnet and Granny wrapped in an old tartan blanket. They both played with us endlessly with such kindness and patience.





In recent years, Granny talked fondly of her own childhood, adored by her elder brothers, and brought up in the community of the Plymouth Brethren. She loved singing on Wandsworth Common and the tennis matches and group outings. She was sent to a Myopic School for children with poor eyesight. But she saw that as an adventure, and not a label, a bus ride across London, and a chance to play tricks on the teachers and write on slates.





Her secure childhood, and the gentleness and kindness she inherited from Little Granny clearly made her the thoughtful and caring person that she was. I stayed with Granny in my early 20s, as I recovered from a hip operation, scared and in pain. I can't imagine anywhere better that I could have been. She supported me with the care and compassion she had shown so many others before and after.





We spent the days playing games, doing crosswords, and slowly hobbling up and down the garden path. Enid visited and she and Granny told stories and laughed and laughed, revelling in their long friendship.





I think some of her resilience and acceptance may have rubbed off, but sadly not her passion for gardening. Granny had so many passions, art and music, travel and religion. She held a deep faith, but wore it lightly, never thrusting her opinions on you or judging. But it was her strength and foundation. And the church and community in Leatherhead, were a huge part of that.





She lived alone for many years after Grandpa died, but that didn't dampen her enthusiasm for life. Phoning her to see if she was around for a cup of tea. She would say, "I can't do Thursday because I'm popping up to London to the latest art exhibition or the opera". Or, "not Tuesday because I have to drive one of the old dears to such and such". Many were younger than her. And "not next week, because I'm off to Scotland" - or Ireland or maybe Russia.





She was so full of life and had an extraordinary interest in everyone and everything. We were so lucky to be loved, and to love her. When my eldest was born, it was an obvious choice to name her after the best person we knew. One so full of positivity and joy, kindness, and love. We named her Molly.



Poem: Do not stand at my grave and weep By Mary Frye


Read by David

This is a poem that I think sums up Mollie's attitude to life and death.




Do not stand at my grave and weep,
I am not there; I do not sleep.
I am a thousand winds that blow.
I am the diamond glint on snow.
I am the sunlight on ripened grain.
I am the gentle autumn rain.
When you wake in the morning hush,
I am the swift, uplifting rush Of quiet birds in circling flight.
I am the soft starlight at night.
Do not stand at my grave and weep,
I am not there; I do not sleep.
Do not stand at my grave and cry,
I am not there; I did not die.

Thank you so much for two beautiful tributes and the poem, and now a little more music for time for reflection.





Music: Remember Me Music by Bob Chilcott, Words by Christina Rossetti


I'm inviting Rachel now to come and read us the next poem as the music's faded for us, thank you.



Poem: You can shed tears that she is gone By David Harkins


Read by Rachel



You can shed tears that she is gone,
Or you can smile because she has lived.
You can close your eyes and pray that she will come back,


Or you can open your eyes and see all that she has left.
Your heart can be empty because you cannot see her,


Or you can be full of the love that you shared.
You can turn your back on tomorrow and live yesterday,


Or you can be happy for tomorrow because of yesterday.
You can remember her and only that she is gone,
Or you can cherish her memory and let it live on.
You can cry and close your mind,
Be empty and turn your back,
Or you can do what she would want:
Smile, open your eyes, love, and go on.




Address
The Reverend Sarah Burrow on behalf of Canon David Eaton.




Thank you Rachel.




Mollie would have loved the fact that so many of you are actually participating today.




It's now my privilege to deliver the Address that has been written by David Eaton, who was Mollie's parish priest for many years and a good friend, I gather, to Mollie and her husband.




In the name of the Father and the Son and the Holy Spirit.




Mollie leaves a rich legacy. The legacy is who she was and all that she meant to so many people. While many of us in later life are doing a fair impersonation of Victor Meldrew, this was never going to be Mollie's way, she was full of energy for living into deep later life.




Her interest was clothed in love and kindness and a genuine concern to put other people before herself. She enjoyed people for their own sake, and they certainly enjoyed knowing her. Her sense of fun and good-heartedness meant you were always glad to have met her, and have shared time with her.




This, of course, was nowhere more true than with the family, which she and John had raised together, loved dearly, and as the years went by, seemed to reach to the far horizon. But many, though they may be, Mollie was in touch. This was not out of duty, but a genuine care and interest in what was happening to each one of her expanding family. They loved her for it, and held her deep in their hearts.




And if family was important, so too were friends, her many friends who would have been here today in normal circumstances, and a memorial service, to come in Leatherhead will give opportunity for this to happen. Thankful to have known Mollie, there is sadness that her death, but also much celebration for a life lived to the full. It is a celebration, which was shared in by the Queen, because the secret of longevity is that very quality which Mollie had in abundance, an optimistic and hopeful spirit. It gave her a contentment and acceptance to be envied. She was always tolerant, inclusive, forgiving, and encouraging.




I got to know Mollie because there could not have been a more faithful church member at St. Mary and St. Nicholas. This was the case during my time there as incumbent, but equally so before and after my time. She was faithful in the sense always there to offer support, church was central. She was keen to give lifts to church to those who otherwise would not make it. These she described as her old people, even though many were younger than she was.




But she was also faithful because she was always a faithful Christian disciple. She often said she didn't know how others got by without it. Her devotion was real, her commitment without question. She had a sensitive spiritual awareness that made prayer her natural second language. Her faith was not naive but thoughtful and reflective.




And she was well informed, wouldn't settle for a platitude or anything superficial. It had to ring true in her experience and the experience of those she knew and had listened to. Her spirituality spilled over into the arts, well read, she usually had a book on the go. She liked nothing more than a trip to London to one and sometimes two exhibitions, or performances in a day. When others were grasping for a chair and a coffee, she carried on with her energy, her love of life and artistic creativity, whether painting, opera or music.

There was in Mollie, often masked by her selfdeprecation, some steel as well, demonstrated by her daily walks, which continued into her 90s. Captain Tom, you are not alone.




As understanding as Mollie was, she didn't fight shy of having her own opinions. And it was always good to hear because she was so well informed.




So it is with much love and thankfulness we commit Mollie into God's safekeeping. We each have our own memories to recall, her legacy, our treasures. She will be missed. She brought so much to everyone who knew her. She sets us the best of examples of how to live life to the full.




There can be no doubt a warm welcome awaits in heaven and great will be her reward. Jesus said, I go to prepare a place for you. I will come again to take you to myself.




May she rest in peace and rise in glory. Amen.


Prayers and The Lord's Prayer
As we remember Mollie, with love and gratitude, and pray for all who mourn her, let us join all our prayers in the words Jesus taught us:




Our Father, who art in heaven

Hallowed be thy name.
Thy kingdom come.
Thy will be done


On earth as it is in heaven.
Give us this day our daily bread


And forgive us our trespasses


As we forgive them who trespass against us.


And lead us not into temptation


But deliver us from evil.
For thine is the kingdom


The power and the glory


For ever and ever.
Amen




Now before the commendation and committal, we hear a part of Lux Aeterna.



Music: Lux Aeterna by Edward Elgar, Arranged by John Cameron


Commendation and Committal


I invite you now to stand for the Commendation and Committal.





Let us commend Mollie to the mercy of God, our Maker and our Redeemer.

God our Creator and Redeemer, by your power Christ conquered death and entered into glory.
Confident of his victory and claiming his promises, we entrust Mollie to your mercy in the name of Jesus our Lord who died and is alive and reigns with you , now and forever. Amen.





The Lord is full of compassion and mercy, slow to anger and of great goodness as a father is tender towards his children. So is the Lord tender to those that fear him.





We have entrusted Mollie to God's mercy, and we now commit her body to be cremated. to earth, ashes to ashes, dust to dust, in sure and certain hope of the resurrection to eternal life through our Lord Jesus Christ, who will transform our frail bodies, that they may be conformed to His glorious body who died, was buried and rose again for us. To him be glory for forever. Amen.




Closing Prayers and Blessing

Please sit for the blessing.


May God give you his comfort and his peace, his light and his joy in this world, and in the next and the blessing of God Almighty the Father, the Son, and the Holy Spirit, rest upon you, and remain with you always.

Amen

.




Departure Music: In Paradisum from Requiem by Gabriel Faurť


We hope to hold a Memorial Service in Leatherhead later.



You can shed tears that she is gone
Or you can smile because she has lived.




for the back page of photos see the November 2021 service below



---

Leatherhead Parish Bulletin, February 2021
CHURCH FAMILY NEWS - MOLLIE CANNINGíS BENCH IS NOW IN PLACE

The bench in memory of Mollie Canning has now been installed in the Park Gardens just below the church, and it looks splendid.

The inspiration for the bench came from the Leatherhead Community Association, under the leadership of their Chairman, June Robinson. They planned it, raised the money, and with the help of Robin Davis, the Parks and Landscapes Officer for Mole Valley, arranged its installation.

Mollie was always ďnearer Godís heart in a garden than anywhere else on earthĒ, and itís a great place to sit and watch the view and remember her.



In loving memory of Mollie Canning 1920-2020
The words Smile because she has lived came
from her funeral service sheet.
---
A Service of Thanksgiving and Celebration
for the Life of


MOLLIE CANNING

24th July 1920 - 25th October 2020



Service conducted by

The Reverend Canon David Eaton

St Mary and St Nicholas Parish Church
Leatherhead

Friday 26 November 2021 at 11.00am


The music links may include advertising, which you can skip.
For the recording of this service please click
here
Organ
Luke Usher-Somers

Choir
Mickleham Choral Society
Conducted by Juliet Hornby
You can shed tears that she is gone
Or you can smile because she has lived.
Order of Service
Organ Voluntary





WELCOME AND INTRODUCTION


The Reverend Canon David Eaton





We meet in the name of Jesus Christ, who died and was raised to the glory of God the Father.
Grace and mercy be with you
and also with you.

We look not to the things that are seen but to the things that are unseen; for the things that are seen are transient but the things that are unseen are eternal.

Today we come together to remember before God Mollie, to give thanks for her life and to comfort one another in our grief.

Father in heaven, we praise your name for all who have finished this life loving and trusting you, for the example of their lives, the life and grace you gave them and the peace in which they rest.

We praise you today for your servant Mollie and for all that you did through her. Meet us in our sadness and fill our hearts with praise and thanksgiving, for the sake of our risen Lord, Jesus Christ. Amen.

1 CORINTHIANS 13
Read by Martin

Love is patient, love is kind.
It is not jealous or boastful; it is not arrogant or rude.
Love does not insist on its own way.
It is not irritable or resentful.
Love does not rejoice at wrong, but rejoices in the right.
Love bears all things; believes all things; hopes all things; endures all things.
Love never ends.
As for prophecies, they will pass away. As for tongues,
they will cease. As for knowledge, it too will pass away.
For now we see in a glass darkly, but then face to face.
Now I know in part.
But then I shall know even as I am known.
So faith, hope, love abide; these three.
But the greatest of these is love.

HYMN
sung in Wells Cathedral

Love divine, all loves excelling
joy of heav'n, to earth come down,
fix in us thy humble dwelling,
all thy faithful mercies crown.

Jesus, thou art all compassion,
pure, unbounded love thou art.
Visit us with thy salvation;
enter ev'ry trembling heart.

Come, Almighty, to deliver,
let us all thy life receive.
Suddenly return, and never,
Never more thy temples leave.

Thee we would be always blessing,
serve thee as thy hosts above,
pray, and praise thee without ceasing,
glory in thy perfect love.

Finish, then, thy new creation;
true and spotless let us be.
Let us see thy great salvation
perfectly restored in thee.

Changed from glory into glory,
till in heav'n we take our place,
till we cast our crowns before thee,
lost in wonder, love and praise.

TRIBUTES
By Elizabeth, Bryan and Chris



Elizabeth: Our mother Mollie was known by and answered to many names.
Hilda, her birth name when she was at school and latterly with hospitals; Mollie, Moll, Mummy, Mum, Ma, Aunt, Auntie, Grandma, Granny to Greengage baa lamb (more later) and Granny Goat.

As a Doling she was brought up with a love of sport, the arts, music and debate. I think she played the violin at one time but possibly not very well.

On Bank Holidays they would catch the train to Surrey and walk up Box Hill.
She therefore didnít think twice about walking us all up to the town for provisions and our quota of orange juice and cod liver oil. Nor of walking to Verulamium Park to play tennis. Both these treks to us were about two and a half miles each way. Quite a long way when you are small.

Our prep school was a 5 mile bus ride plus one mile walk the other end. On Sundays after matins and lunch we would go for a local family walk in all weathers. Sometimes we would travel to Ivanhoe Beacon or Dunstable Downs.

Mother did a lot of sewing and knitting. Skirts and dresses for the girls, trousers and shirts for the boys - sweaters for us all.

There was no television, only radio and gramophone, so you had to make your own entertainment. Social evenings were cups of tea and sandwiches. Cards, Beetle drives and the noisy game PIT. Cricket was played with the boys after the girls were supposed to be in bed. I used to hang out of the window longing to join them.

There was never a dull moment in our home. Mother was a very capable/organised person and she also thrived on having people around her. She was never afraid of hard work, (no mod cons in those days). From what I recall, the only jobs we were asked to help with as children were the washing up and topping and tailing the gooseberries.

She was an active member of the local community being very involved with the Young Wives, Church cleaning and later the Motherís Union. She gave many 'talks' to other groups in the area, which my father had to ferry her to and from. On these occasions she would get us our tea and lie on the dining room floor for forty winks. We used to talk to her and she would mumble something indecipherable. This is when we used to ask her if she was a 'Greengage Baa Lamb' to which she would reply ďyesĒ.

She made and kept many friends from wherever she lived - from schooldays, work in London where she used to play tennis on what are now lawns at the Inns of Court; Smallfield; St. Albans, Chester, and Leatherhead where she lived the longest.

Our home was always 'open house' to neighbours such as the Smiths, Boultons, Hughes, Raes, Nelsons, Blands and Atkinsons as well as our bachelor vicar The Rev Anthony Hart Sinnot.

We learned to share. Mother invited children from a local childrenís home for tea and to play with us on several occasions. That was quite an eye opener for us and taught us that not everybody was as lucky as we were.

We had various people living with us at times including Johnís brother Robin and his daughter, our cousin Charis, our Grandfather George Canning, Peter Burns and Michael Gwinnell.

I only saw my mother really upset once which was when two little sisters we knew were killed in a road accident.

The only time alcohol was seen in the house was around Christmas time when there would be beer, sherry and brandy. Stirring the brandy in to the Christmas pudding then tasting the mixture put me off brandy for life!

Christmases with our cousins was always noisy, full of fun, singing and debate.

Of course there were sometimes differences of opinion but these were always resolved with mother concentrating on the positives and dismissing the negatives.

Our father usually had the last word but would always be in agreement with mother. In his eyes she could do no wrong and if she was happy - which was most of the time - that was all that mattered.

There were monthly concerts at the Albert Hall which we enjoyed from the 'Gods'.

She had a secret habit of standing in the larder eating a vanilla slice or cream bun after shopping - she obviously needed the sugar fix to keep her going. Maggie and I caught her out and asked to have some but she told us it was her little treat.

Later in her life she visited India, Bahrain, Indonesia, Portugal, Austria, Germany and Russia but when we were young she wanted to see the world and travel. A start to this was made by taking the boys camping in England and going to night school to learn conversational French.

The following year we all piled in the car with the camping gear. We were off to tour the Continent for three weeks. Much sightseeing and many art galleries to visit with the odd couple of days off to relax in the sun. Many similar holidays followed, including Norway, Italy and Switzerland.

At this stage mother didnít drive. By the time she did learn three of us siblings were already driving. Driving opened up a whole new world for mother and made her very independent. There was no stopping her now!

She remained interested in sport and the arts all her life. Religiously doing her exercises after various operations. She was even doing her mile walks until she was 100 where she remained in her own home with some wonderful support from her very good friends in Leatherhead.

She always said she wanted to be a teacher or nurse and I think she achieved both those wishes whilst bringing the four of us up.




Bryan: Mollie Canning was a genuinely lovely lady and it has been been a real privilege for all of us to have known her either as a relative, as friend or as an acquaintance. A picture is worth a thousand words and to me the full colour photograph on the order of service today encapsulates all I want to briefly mention about her.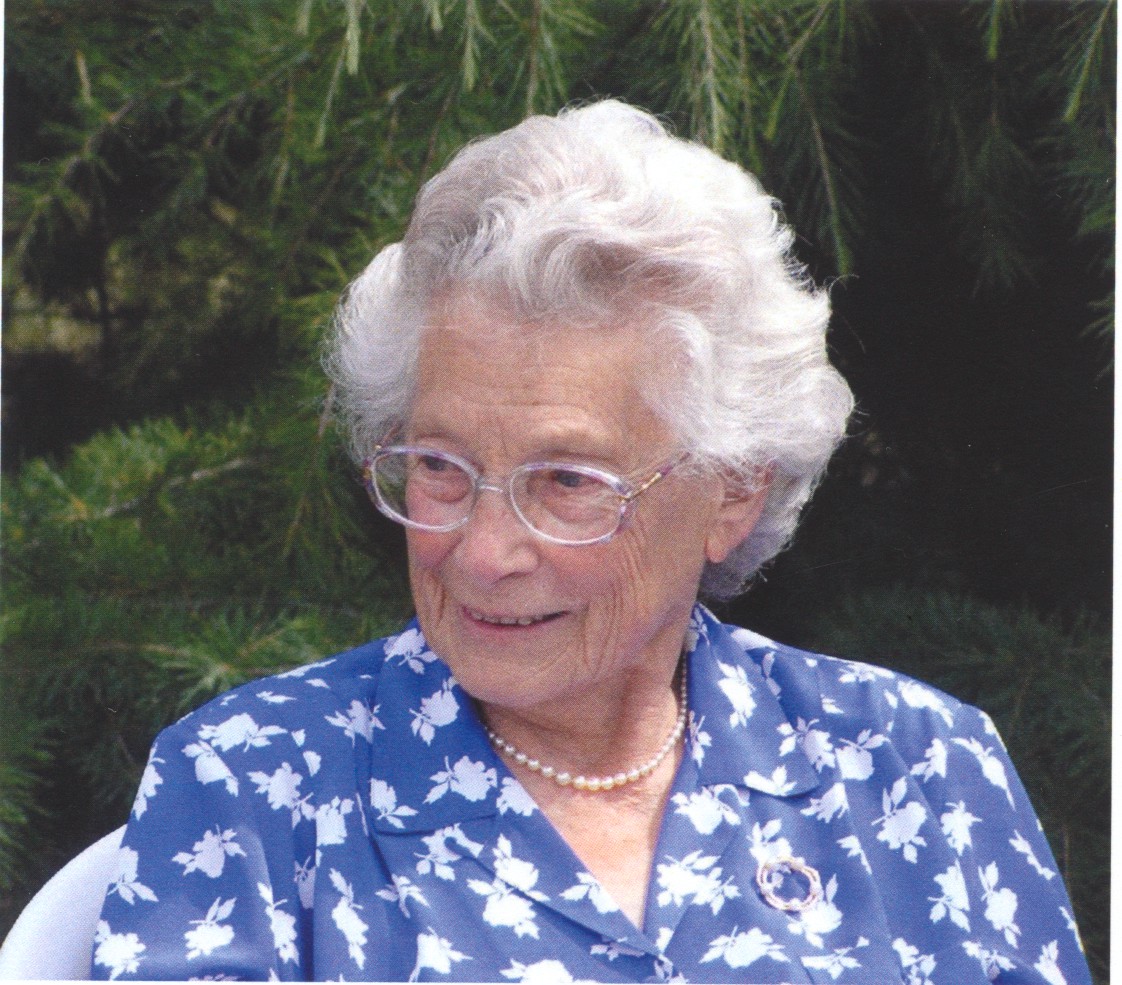 Mollie was my aunt. She had two brothers, Norman and Eric. All three came from modest backgrounds in South London, Wandsworth, but all were successful in the greasy pole of life.





Norman, my Dad, became a bank manager in Piccadilly, in the days when they still had the amazing ability to have a manager in the branch.





My Uncle Eric rose to eminence in the Civil Service in the days when civil servants wrote to you and said 'Dear Sir' and signed off 'Your obedient Servant'.





Both brothers did well and so did Mollie. I think her crowning achievement was to marry John Canning, a highly qualified aeronautical engineer, who I always regarded as the most kindly, friendly and sociable of men, with a permanent smile, although able to exercise the necessary discipline over these four somewhat boisterous children.





I just want to emphasise three of Mollie's strongest characteristics which I know endeared her to us all.





The first thing was she was vivacious. When in her company, you couldn't come away without a sense of having spent time with a person who is enthusiastic about life and was keen and able to pass that enthusiasm on to you, and this applied even in her latter years.





Secondly, she was gregarious, friendly, sociable - interested in you personally, and giving you her whole attention.





We used to come for a number of years to the Godalming Operatic Society productions in the theatre here. We'd have lunch with them first and have tea with them afterwards. We'd say what is she doing in retirement? Going to London concerts: writing copious letters to people; being involved with many folks from the church here; meeting and chatting with friends by the river and keeping up with her growing family.





She had a wide circle of friends and relations, four children, I believe eleven grandchildren and I think I am right in saying twenty great grandchildren.





Thirdly, she was gracious. The dictionary definition is having charm, good taste, and generosity of spirit. She had those to the full. Often we said to her, what was she doing on a particular day, she'd be helping, as she put it, the old people, many of them younger than she.





So she was adventurous, she was gregarious, she was gracious. One more quality and that's in the terms of a poem:




The wise old owl sat in an oak.

The more he heard the less he spoke;

The less he spoke the more he heard;

Why aren't we all like that wise old bird?




Now that to me describes Mollie perfectly. I always regarded her as incredibly percipient. She would ask you a question - I'm sure she full well knew the answer, but she'd you draw you out into animated conversation, which would finish with both of you have expanded your knowledge and the breadth of opinions debated.





Vivacious, gregarious, gracious. In the words of the poem let's emulate that wise old ... lady in all her characteristics and as she did, do our part to make this world a happier place. Mollie thank you for the positive way in which you've enriched our lives.


Chris: see the tribute Chris gave in the 2020 service above.

Love. Fare thee well by Johannes Brahms
Sung by the Choir - it starts at 23:26 in the recording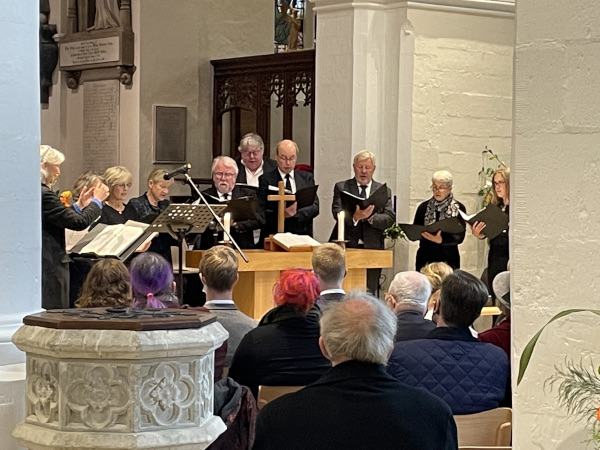 Mickleham Choral Society Choir

TRIBUTES
By Vanessa and Jill

Vanessa: see the tribute Vanessa gave in the 2020 service above

Jill Goodchild: I first met Mollie when I started coming to this church about 40 years ago. The call had gone out for home-baked cakes to sell at the Autumn Market and when I was delivering one of these (I must have known how to bake a cake then) to the Parish Hall, I was greeted by Mollie's legendary beautiful smile.

She was on the stage surrounded by hundreds of books which was a good place for her to be. Some years later she and I took on the bric-a-brac stall which we much enjoyed (fortified by a secret glass of sherry at lunchtime). She had a much better idea of pricing than I had and would get advice from an antique dealer in Leatherhead.

Later on we started a craft stall and were joined by Helena [Hill] and her lovely patchwork. Mollie knitted miles of colourful scarves which flew off the stall. Has anyone here not got one? I'm wearing one of mine.

I think that Mollie's greatest passion in life, apart from her lovely family, music, walking and books was art appreciation. She would set off to London on the train and take in a couple of galleries. She preferred to do this on her own as chatting would detract from the art itself. When I took up painting after retirement, she was always very encouraging and keen to see and discuss what I was working on. She loved to come to our local Art Club exhibitions and would look at every painting and have an apposite comment to make. I think the family tried to curb her passion for buying paintings, without much success.

I do remember taking her to a Private Show by an artist who had been very inspirational to me - and both coming home with a canvas under our arm, without having had any plan to do so.

In recent times, during the first Lockdown we used to meet at Fetcham Mill Pond where she loved to watch the wildlife and chat to passers-by. When I discovered that she was walking more than a mile a day in her 100th year, we set up a fundraising page in aid of Mencap which she had supported over countless years, collecting jumble for them in her garage all the year round. This raised a very good sum, thanks to the generosity of her lovely family and friends.

It is very fitting that Mollie's ashes are now buried here alongside her beloved John's, because it is within sight of their meeting place. Neither of them grew up here, but during the War the Air Ministry was evacuated to Leatherhead and when Mollie's boss heard that she was sweet on John he warned her that "Officers don't marry clerks". Her reply was "This one will" and thus a dynasty was born.

I visited Mollie in hospital a couple of years ago and when I was leaving I heard her say to the nurse "she is my best friend". What a privilege and a joy to have had such a one in my life.

POEM by David Harkins
Read by Rachel



Rachel: I'm just wondering if I can just share one tiny memory of Granny. Russia has come up twice this morning. I was actually living in Russia when she and her friend Mad Meg - I have got no idea whether she was mad, she didn't seem mad to me - came on one of those trips, cruise boat trips.

They came to have dinner with me one evening and after dinner I put them in a taxi cab. It actually wasn't a taxi cab, just private cars in the 1990s in Moscow. Probably not the most sensible thing to do with your 80 year-old Granny and her friend. But I put them in this cab.

I talked to her the next day - did they get back to the hotel all right and so on? She said "Darling, I had the most wonderful conversation with the taxi driver." Well, given that the taxi driver spoke not a word of English and she spoke not a word of Russian, I have literally no idea how they communicated. To me that was absolutely what Granny was and why so many amazing people are here today. So, that's just my memory.

For the poem Rachel read, see the 2020 service above.


HYMN
King's College Chapel Choir

Dear Lord and Father of mankind,
forgive our foolish ways;
reclothe us in our rightful mind,
in purer lives thy service find,
in deeper reverence, praise.

In simple trust like theirs who heard
beside the Syrian sea
the gracious calling of the Lord,
let us, like them, without a word
rise up and follow thee.

O Sabbath rest by Galilee,
O calm of hills above,
where Jesus knelt to share with thee
the silence of eternity, interpreted by love!

Drop thy still dews of quietness,
till all our strivings cease;
take from our souls the strain and stress,
and let our ordered lives confess
the beauty of thy peace.

Breathe through the heats of our desire
thy coolness and thy balm;
let sense be dumb, let flesh retire;
speak through the earthquake, wind, and fire,
O still, small voice of calm!

Address
The Reverend Canon David Eaton [former Vicar of Leatherhead]

The tributes we have heard paint a vivid and true picture of Mollie as we knew and loved her. In this they are like the photograph on the front cover of the Order of Service which catches her just as she was.

Both are Mollie to a tee and why we are here today Ė to celebrate her life, to raise a cheer with hats in the air because we were fortunate enough to have known her and spent time with her.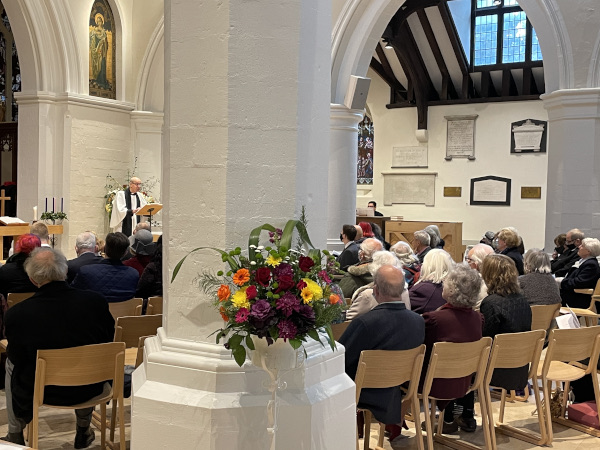 She was always the kind of person you remember and pleased to call your friend. She was a great example of what it means to be a human being at its best. And because of all this she drew out much love in others for her Ė not in any self indulgent kind of way but just by unassumingly being her self.

It was this that no doubt caught Johnís eye, all those years ago. As we heard some may have advised him against but officer and gentleman that he was, thatís why he loved her. They were made for each other and formed a great bond and partnership.

Their large and expanding family was a source of much pride and pleasure. Later, although I viewed from a distance, it seemed to me she was the best of Grannies and doted on all her grandchildren taking immense delight in their achievements and activities.


I picture her rolling on the floor with them when young and taking them with great authority to the latest exhibition in London as the years advanced. Mollie, I will confess when it comes to being a grandparent you put me in the shade - I want you to know Iím doing my best to follow your good example but you set a scorching pace.

So that for me when we come to talk about all things Mollie several things stand out.

In church life she was always there. She was the most faithful of church members and could be relied on to be present and giving her full support. More about that in a moment.

There was always a welcome. Mollie was pleased to see you ... even if she wasnít. She had a generous and open spirit which made you feel you mattered to her. She had time for each and everyone she met.

This generosity of spirit didnít mean she was a walkover. She wasnít just nice and polite. She had insight when it came to people and what made them tick. She could see the dark as well as the light. Because of this she had to be listened to; she was usually right.

She was also mighty determined - we have heard about her walking the Fetcham mile and this was a product, in later life, of the steel in her character which had always been there. She had brought up her family and, as every mother knows, to do it properly means you have to be tough at times.


With this lot we can see what she was up against, but she won through and so did they.

The world is full of good advice about how to live your life and the problems you will encounter if you donít take it: a hundred press ups a day before breakfast - as if. Woe is me ... I find it hard to imagine how I can have made it this far at all.


But it seems to me that there is a quality which Mollie had which outpaces all of these. You canít buy it at the shops or even from Amazon.


She was open to the future. She was an optimist.


She steered her ship on an even keel. She knew the world - its dangers and pitfalls - but her glass was half full and her heart hopeful.

She was a woman with spirit, a strong woman, although not in the usual sense. She wasnít necessarily leading the charge - although God bless those who do. She didnít make a lot of noise or draw attention to herself. Instead she was unassuming and modest. But I suspect it was this spirit - hopeful and strong - which brought that telegram from the Queen on her 100th birthday.


Whether it was written in her genes or in the stars I donít know but her hopefulness was driven by her faith. It wasnít just that Mollie was a believer but she had a real sense of the presence of God, of spirituality - of what it meant to pray and to see a deeper river running through life. She was devout but not pious, hopeful but always a realist. Liberal and open minded in her attitudes and opinions.

Her optimism was based on her trust in a God who would not let her down and was present in all of life.


Itís why she had an interest in art appreciation. When she looked at a painting she looked below the surface, she looked for what was hidden ... but to the eye of faith clearly present. Great painting shows you people and life as they really are, sometimes broken, some times glorious. Here were people and places shaped in Godís image and likeness. Here God was to be found and Mollie rejoiced.

At the Church of Englandís General Synod meeting last week the Archbishop highlighted the loss of membership in the church - down from 20% of the population in the 19th century to less than 2% today. The church could do better but the big influences are outside church control.


People have stopped believing. We are secular society, probably the most secular in Europe. God canít be seen anymore and just isnít there for many people today. What Mollie brought to the table was an awareness of just where he could be found. He was in her life and she couldnít imagine life without him. He was the one who gave her hope and kept her on course.


What others may attributed to natural causes Mollie saw as the divine hand at work. For her God was the heart beat that kept life going, the life blood that made life possible. Her life and his were wrapped up together, naturally part of each other.

And because all this was true it followed that life would make most sense when lived his way. That is why the reading today is so appropriate. St Paulís eulogy on love was Mollieís guiding star. It was how she sought to live her life and why we are here today and remember her. She epitomised what Paul wrote as she lived and shared her life with others: patient, kind, not arrogant or rude or resentful, not centred on herself but with a love that reaches out and never ends.

Of course she wasnít perfect ... but who cares? Itís not why we are here and I canít think what on earth I would say anyway.

We are here in celebration and thanksgiving of the human spirit, of hope which springs eternal, of fun and laughter, of friendship and love, of rolling on the floor and dancing in the aisles.

Mollie, we miss you; you put a spring in our step and a smile on our face. Thank you.


You leave a rich legacy - a challenge to those of us who come after. Not to settle for the superficial but to always look deeper in life and faith; to not duck the difficult questions; to believe in God and recognise his hand at work around us; to trust in God and be hopeful; to love people; to love yourself; to be not afraid.

Today we place Mollie safely in the hands of God who was with her all her life and now welcomes her home.
She dared to believe that another life beyond this one is possible and it is this she inherits.
Sure and certain of a life to come she is home at last.


May she rest in peace and rise in glory.
Amen
Prayers of Thanksgiving


And now some prayers.
God our Father, we thank you that you have made each of us in your own image of life and given us gifts and talents with which to serve you. We thank you for Mollie, the years we shared with her, the good we saw in her, the love and friendship we received from her. Give us strength and courage to leave her in your care, confident in your promise of eternal life through Jesus Christ our Lord.
Amen
.
Most merciful God, whose wisdom is beyond our understanding, surround Mollie's family with your love, that they may not be overwhelmed by their loss, but have confidence in your goodness and strength to meet the days to come. We ask this through Christ our Lord.
Amen
.
Almighty God, Father of all mercies and giver of all comfort: deal graciously, we pray, with those who mourn, that, casting all their care on you, they may know the consolation of your love; through Jesus Christ our Lord.
Amen
.
And we especially remember this time Molie's daughter in law Cathy who is not well and unable to be here, and her husband Paul, Mollie's son. May God bless and be with them at this time.
A moment of silence for our own thoughts and prayers.
Blessed are you, Sovereign God, ruler and judge of all, to you be praise and glory for ever. In the darkness of this age that is passing away may the light of your presence which the saints enjoy surround our steps as we journey on. May we reflect your glory this day and so be made ready to see your face in the heavenly city where night shall be no more. Blessed be God, Father, Son, and Holy Spirit.
Amen
And if it is your practice please join with me in the Lord's Prayer:
The Lord's Prayer
Our Father, which art in heaven
Hallowed be thy name.
Thy kingdom come.
Thy will be done
On earth as it is in heaven.
Give us this day our daily bread
And forgive us our trespasses
As we forgive them who trespass against us.
And lead us not into temptation
But deliver us from evil.
For thine is the kingdom
The power and the glory
For ever and ever.
Amen

HYMN
Choir of Westminster Abbey
Praise, my soul, the King of heaven;
to his feet your tribute bring.
Ransomed, healed, restored, forgiven,
who like me his praise should sing.
Praise him! Praise him! Praise him! Praise him!
Praise the everlasting King!
Praise him for his grace and favour
to our fathers in distress.
Praise him, still the same as ever,
slow to chide, and swift to bless.
Praise him! Praise him! Praise him! Praise him!
Glorious in his faithfulness!
Fatherlike he tends and spares us;
well our feeble frame he knows.
In his hands he gently bears us,
rescues us from all our foes.
Praise him! Praise him! Praise him! Praise him!
Widely as his mercy flows!
Angels, help us to adore him;
ye behold him face to face.
Sun and moon, bow down before him,
dwellers all in time and space.
Praise him! Praise him! Praise him! Praise him!
Praise with us the God of grace!
COMMENDATION
and
BLESSING
May the peace of God, which passes all understanding, keep your hearts and minds in the knowledge and love of God and of his Son Jesus Christ our Lord. The blessing of God almighty, the Father, the Son, and the Holy Spirit, be with you and those whom you today and for evermore.
Amen.
Organ Voluntary
The family invited us to join them after the Service for refreshments in the side aisle of the Church.
All Mollie's friends have been more than generous in donating already in her memory,
but should anybody wish to further donate we suggest giving to the Church which she loved,
sent to Parish Church c/o Leatherhead Parish Office, Rear of Church Hall, Church Road, Leatherhead KT22 8BD.
(Please make cheques payable to Parochial Church Council of Leatherhead

or contact the office 01372 362544 for BACS details)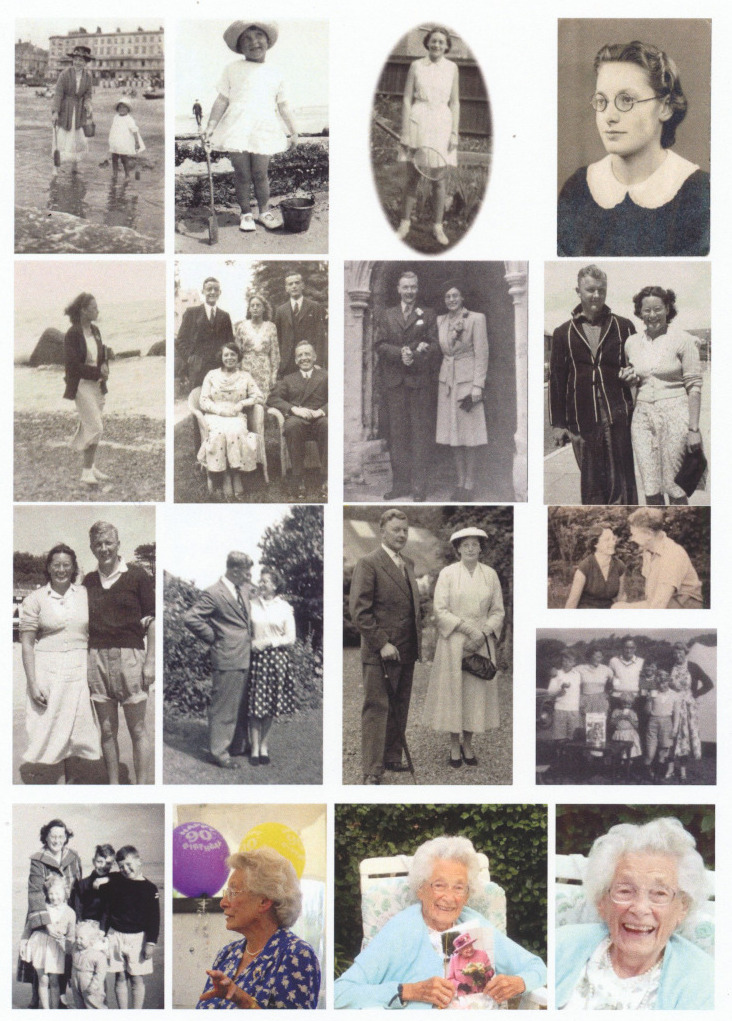 ---
MOLLIE CANNING MEMORIAL LECTURE


When Mollie died her friends donated for the provision of a bench in her memory in Park Gardens, as shown above. The spot chosen overlooks the view from the Priory, where Mollie and her husband John met all those years ago. It is inscribed

Smile because she has lived

, taken from the poem read by one of Mollieís granddaughters at her funeral and thanksgiving services.

The generosity of donors enabled Mollie's passion for the Arts to be shared by supporting a Mollie Canning Memorial Lecture open to all at the Leatherhead Institute a few hours after her Thanksgiving Service.

The very successful lecture - Curves, Colours & Cool: An Introduction to Mid-Century Modern - was given by Mark Hill, an expert from the Antiques Roadshow, about furniture, ceramics, glass, lighting and metalware, identifying key designs and designers, and examining the revolutionary design movements they began.





It attracted a full house and began with a short extract from Mollieís oral history recorded by the Leatherhead & District Local History Society, in which we heard how much she valued the Leatherhead Community Association at the Institute.




The small remaining balance in the Fund was divided between the Leatherhead Community Association and the Friends of Leatherhead Parish Church Ė both charities which Mollie had enthusiastically supported.
June Robinson



---
MEMORIES OF MOLLIE
Frank Haslam: I have memories of Committee meetings of the Friends of Leatherhead Parish Church held at Farm Cottage, somewhere which to me, then new to the town, had a kind of magical air. Mollie was so welcoming and John so interesting, though I noticed his deafness could be put to diplomatic use. I succeeded him as FLPC Treasurer.

Mollie took especial interest in young families at church and our three boys were asked after long after their Sunday School and Choir days. Her car was frequently to be seen next door to us at the Venerable Bill and Kathleen Purcell's: what priceless funny CofE stories must they have shared!

| | |
| --- | --- |
| Roger Lynch: I visited Mollie on 1st August 2020, eight days after her 100th birthday, at her home, and met some of the family there. I took this photo of her close up and her special birthday card from the Queen. | |
page last updated: 1 Dec 21: some of the text may be changed when all contributors have provided feedback.