EVELYN ALICE DENCH born 9th April 1902, died January 2004
Evelyn was one of five children born to James and Eliza Dench in 1902.

Evelyn never married; she was a keen member of the Girls' Friendly Society and also the Guide movement for many years.

She worked in Betchworth as housekeeper and later as companion to Mrs R M Bond, with whom she developed her skills as a water colourist.

She was recognised for her work with the ARP during the Second World War.

Evelyn with the Girls'
Friendly Society (GFS) banner which she designed

L-R: Evelyn and sister
Dorothy suntanned from Guide camp

Evelyn in 1930

Evelyn in 1984
She would travel every week to Leatherhead, to visit her sister Dorothy and brother George and to attend Sunday matins at St Mary & St Nicholas church.

She retired to a flat in Leatherhead and continued her interest with the Mothers' Union.

Then for some years she and brother George moved to adjoining flats, but in 2000 she moved to the Red House Nursing home in Ashtead and celebrated her 100th birthday there on 9th April 2002. On 3rd January 2004 we received news that Evelyn had passed away following a fall. She is fondly remembered by her many friends.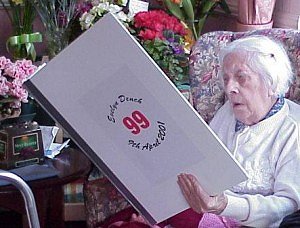 Evelyn at her 99th birthday celebration in 2001

Evelyn in 1984

from March 2002's magazine
Evelyn Dench 100 years old in April

Evelyn Dench is looking forward to celebrating her 100th birthday on 9th April at the Red House Nursing Home, Ashtead, where she is a resident. Evelyn was born in 1902, one of five children of James and Eliza Dench. She never married, and worked in Betchworth, first as housekeeper and later as companion to Mrs R M Bond, with whom she developed her skills as a water colourist. During the Second World War she was recognised for her work with the ARP (Air Raid Precautions). For many years Evelyn was a keen member of both the Girls' Friendly Society and the Guide movement.

Every Sunday she would travel to Leatherhead to visit her sister Dorothy and brother George and to attend matins at St Mary and St Nicholas Church. When she retired, Evelyn returned to live in Leatherhead and continued her interest with the Mothers' Union. Then, for some years, she and brother George had adjoining flats at Homefield, before she moved on to the Red House Nursing Home in 2000.
Philip Goacher
related link: George Dench